SAVECA MUSIC ACADEMY
Offers
Carnatic/Classical Music Services:
Vocal Workshop (Conducting since 2001 in Toronto)
Smt. Raji Gopalakrishnan, Director - Carnatic Music Wing, SAVECA Canada
(Performing Vocalist, All India Radio Chennai A-Graded Artist)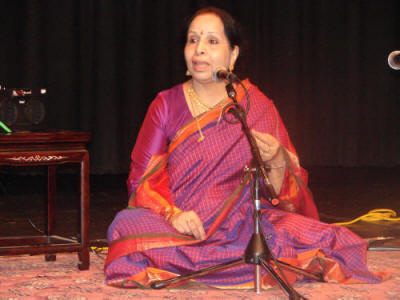 Raji Gopalakrishnan - Saveca Annual Event - 2007
Violin Workshop (2006) - Now on hold
Sri Mullaivasal G. Chandramouli
(From Chennai - AIR A Graded Artist)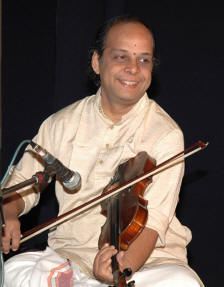 Vocal Carnatic Music
Workshop - In Progress
Ms. Pooja Viswanathan
Post Doctoral Fellow - University of Toronto
PhD - Robotics & Assistive Technology
Co-Founder and CEO - Braze Mobility Inc, Canada
Entrepreneur - Ontario Brain Institute
Highly Qualified Personnel - AGE - WELL, Network of Centres of Excellence
Performing Carnatic Music Vocalist (Toronto & Mississauga)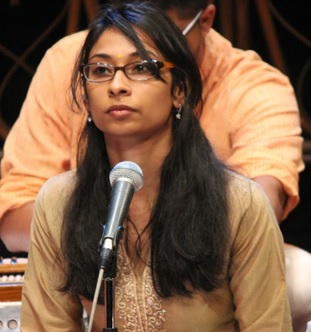 (Disciple of Smt Raji Gopalakrishnan)
Mridangam & Vocal Carnatic Music Workshop - In progress
Prashant Viswanathan, Software Engineer
(Performing Carnatic Music Vocalist and Mridangist) - Toronto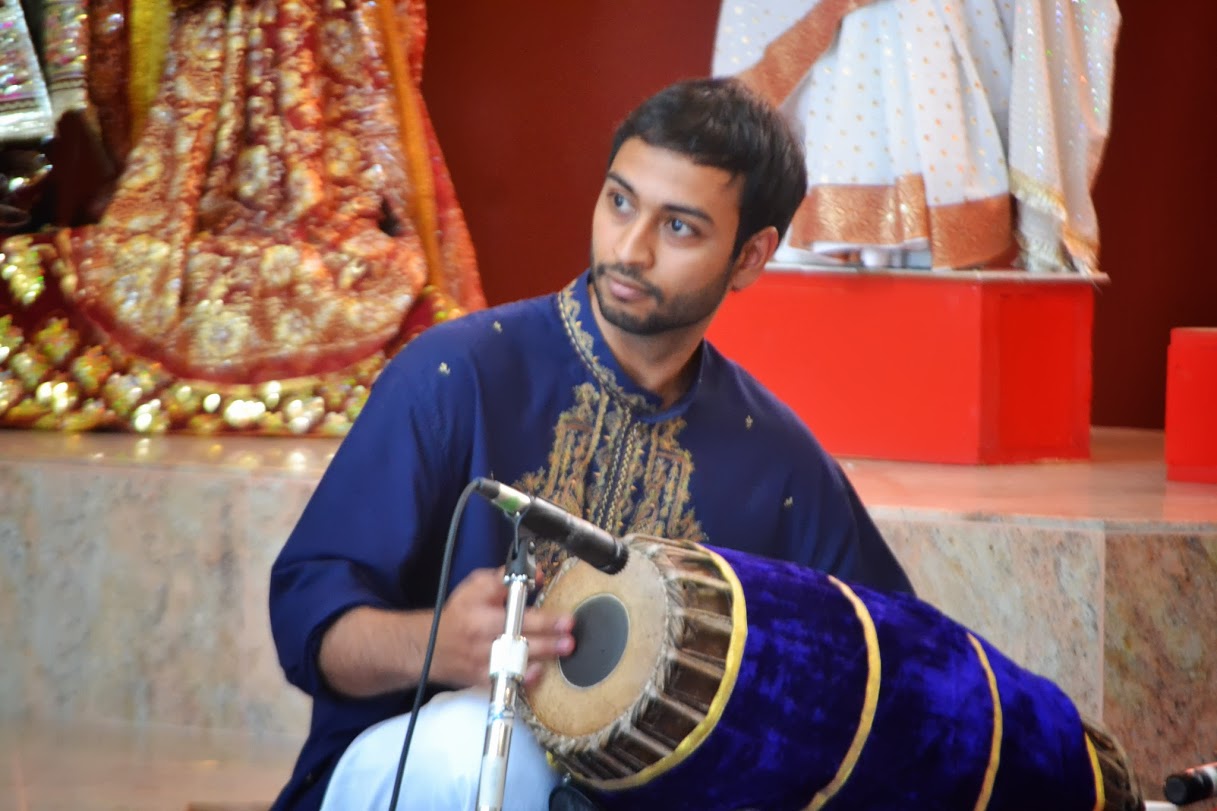 (Disciple of Sri Gana Ganapathy of Toronto)
(Disciple of Smt. Raji Gopalakrishnan)
**See on line registration button on top left**
________________________________
Profile of Prashant Viswanathan
Vocal Concert in Toronto
July 1st, 2013: https://www.youtube.com/watch?v=LeJQasw03m8
http://www.youtube.com/watch?v=ipMTeEh0pxQ
Mridangam Concerts in Toronto
http://www.tubechop.com/watch/1021389
https://www.youtube.com/watch?v=iJCbCq8n49c
https://www.youtube.com/watch?v=jJOJMCwuX0c
MUSIC SERVICES
SAVECA MUSIC ACADEMY
Offers
Carnatic Music Lessons - Vocal (In Mississauga)
Conducted by: Smt. Raji Gopalakrishnan Summer Workshop
(Advanced - Concert/Kutchery - Thanam & Pallavi)
Regular classes
↓
Ms. Pooja Viswanathan (Toronto & Mississauga)
Contact: 647-989-8474 - cell
Prashant Viswanathan (Toronto & Mississauga)
Contact: 1-415-967-9679
(Both are disciples of Smt. Raji Gopalakrishnan)
(Semi Advanced - Raga/Alapana, Neraval & Kalpana Swaram)
(Intermediate - Keertanams)
(Beginner - Basic knowledge of music)
If you like to register in advance for the summer workshop of 2017, please do now
Vish: 905-501-0346 - Res 416-836-5464 - Cell
671 Esprit Crescent, Mississauga
(Bristol and Ceremonial Dr)
-------------------------------------------------------------------------------
Teacher Profile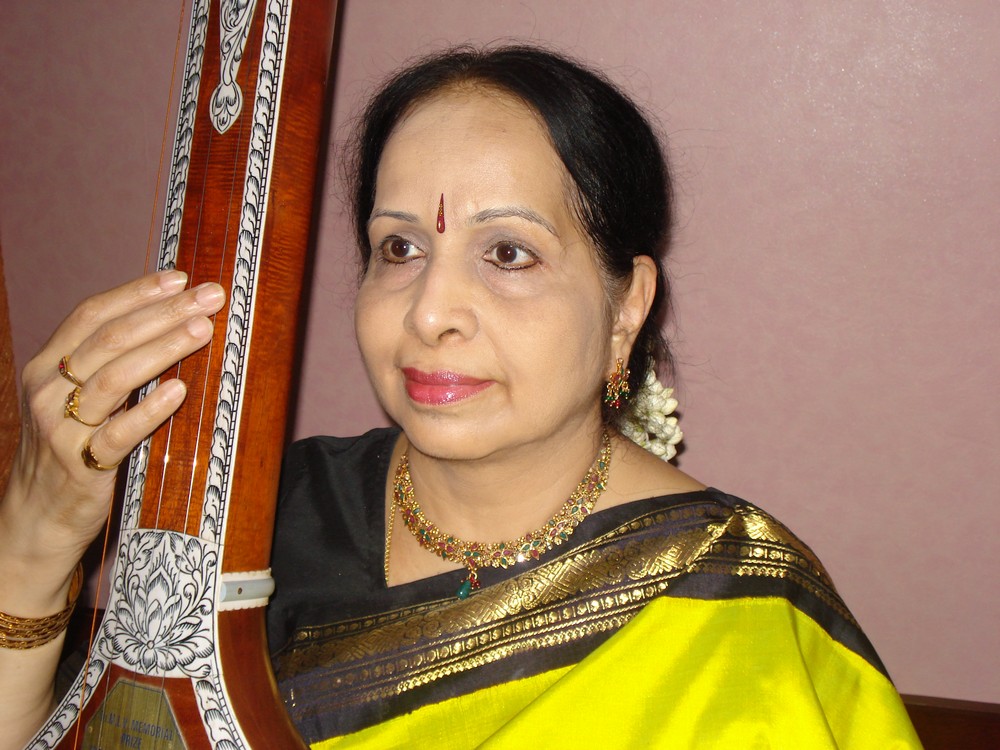 Smt. Raji Gopalakrishnan hails from a musical family & had initial training from her father Sri. P.V. Natarajan. She completed Diploma in Vocal Carnatic Music at Krishna Music Academy, Mumbai under the guidance of Sri. T. S. Krishnaswamy Bhagawathar and a special two-year course at the Bharathiya Music and Arts Society, Mumbai. Subsequently she was trained by Smt. T.R. Balamani and late Sangeetha Kalanidhi Shri T.M. Thyagarajan.
Raji has won numerous awards and gold medals and has come first in many competitions held by various Sangeetha sabhas and organizations. Raji was residing in Bahrain for 14 years and was engaged in teaching music. She gave many concerts in the Middle East and has toured U.K. and USA. Since 1992 she has been residing in Chennai and has been giving numerous concerts in Chennai and at various centers in India. She has given concerts of exclusive Tamil songs and many thematic concerts. She was also invited by Music Academy to give Lecture Demonstration. Raji is an A Grade Artist at A.I.R. Chennai. Her performances in Doordarshan and other satellite channels and also in Radio Sangeeth Sammelan have been well acclaimed and appreciated. Blessed with rich voice, her concert has an infallible conformity with tradition, yet marked by fusion of creativity and stylized elegance.
Raji has toured USA, Canada, U.K. and the Middle East to give concerts in major cities. Raji has been visiting Toronto every summer since 2001 to conduct workshop in teaching advance carnatic music to students and adults of Toronto and giving concerts for the benefit of music lovers in and around Toronto.
A Gold Medal award was conferred on Raji by Music Academy, Chennai, for rendering the best Ragam Thanam Pallavi during the music season of 2002-2003. Also, she has been adjudged as outstanding lady vocalist for the years 2002, 2003, and 2004 by the Music Academy, Chennai.
She recently toured the state of Andhra Pradesh, under the auspices of SPIC MCKAY for Lecture demonstrations and concerts at schools and colleges.
Titles Conferred
Suswara Sukhalaya - Music Acadamy, Chennai, India - 2003
Swara Raaga Saraswathi - Saveca Canada, Canada - 2007

**Debut Concert performances**
(Under the tutelage of Smt. Raji Gopalakrishnan)
Prashant Viswanathan - 09/2007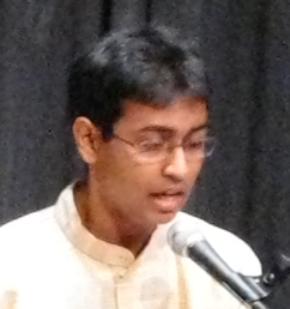 Vaaraki Wijayaraj - 07/2008

Srinidhi Sridharan - 08/2009

Meenuja Viswathasan - 07/2010

Myuran Thananjeyan - 08/2010

Abhishek Vaidyanathan - 08/2010

Abhishek Iyer - 08/2011
Abhinav Narayanan - 08/2013
Archana Sivakumaran - 08/2014
Thakshana Srinathan - 08/2015
Sumant Anantharam - 08/2015