VEDIC SERVICES
_______________________________________________________________________________________________________________________________________

In Bhagvatgeeta "Lord Krishna Says"
"Karmanyeva adhikarasya Ma faleshu Kadaachana"
(Go on performing your actions don't worry about the result)
OM SRI GURUBHYO NAMA:
GURUR BRAHMA GURUR VISHNO GURUR DEVO MAHESHWARAHA
GURU SAKSHAAT PARA BRAHMA TASMAI SRI GURAVE NAMAHA
POWERFUL GAYATHRI MANTRA
OM BHURBHUVASSUVAHA TATSA VITHUR VARENYAM BHARGO DEVASYA DHEEMAHI DHIYOYONAH PRACHODAYAA YAAT
MAHA MRYTUNJAYA MANTRA
AUM TRYAMBAKAM YAJAAMAHE SUGANDHIM PUSHTI VARDHANAM
URVAARUKAMIVA BANDHANAATH MRTYOR MUKSHEEYA MAAMRITAA_AAT
_____________________________________________________________________________
We need a Vadhyar/Priest from India. (From Kerala or Chennai)
Kerala Vadhyar Preferred!
1. Anyone has 8-10 yrs experience & interested may apply (go to contact us button)!
2. Can independantly conduct all the 16 main Hindu Samskaras/Sacraments (conception to funeral ceremonies). Must know Poorva and Apara prayogam.
3. Formally trained in Krishna Yajurveda Shakhas from a reputed gurukulam:
a) Krishna Yajur Veda Taitriya Shaaka comprising three Ashtakams, Aarunam and Kaatakam
b) Krishna Yajur Veda Taitriya Samhita comprising seven Kaandas
c) Krishna Yajur Veda Taitriya Padam comprising seven Kaandas
d) Krishna Yajur Veda Taitriya Kramam
e) Krishna Yajur Veda Taitriya Jatai
f) Apasthamba and Bodhayana Poorva Apara Prayogam & Dharmasaastra
g) Krishna Yajur Veda Taitriya Ghanam (Would be an asset)
4. Some knowledge in Samavedam will be an asset.
5. Telugu Sampradayam will be an asset.
6. Should be able to perform Bhagavathi Sevai (Kerala Style)
7. Jyotisham/Horoscope (Would be an asset)
8. Willing to relocate at least for 1 or 2 years in Toronto without family
9. This is a challenging position, to promote "VAIDIGAM" in Canada
10. If you are well established and earning well in India - Please do not apply
Contact only if serious:
Phone: 905-501-0346 (Leave message)
E-mail: admin@saveca.ca
_____________________________________________________________________________________________
Sandhyavandhanam - Nitya Karma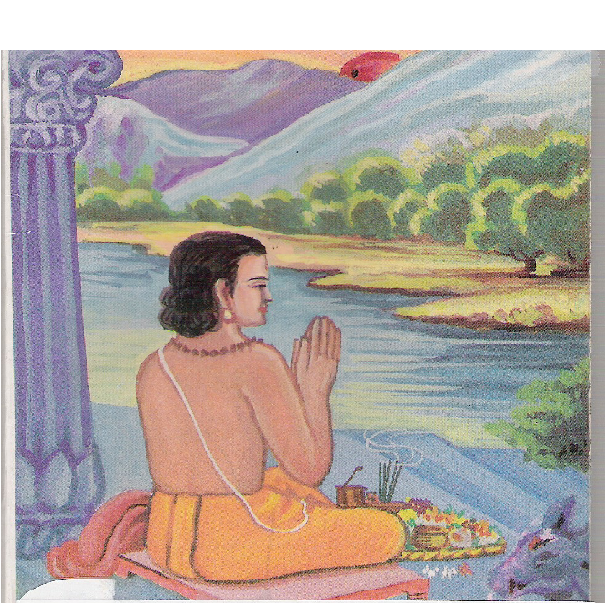 1. Brahmachari - 1 set Poonal
2. After Marriage - 2 sets of Poonal
(Vasthrothriyam Dwitheeya Yagnopaveetha DharaNamaham
3. After Seemantham - 3 sets of Poonal
(Vasthrothriyam Trutheeya Yagnopaveetha DharaNamaham)
Maha Ganesha