DIRECTORS & EXECUTIVE COMMITTEE
| | | |
| --- | --- | --- |
| NAME | POSITION | E-MAIL ADDRESS |
| Vish Viswanathan | President & C.E.O. | admin@saveca.ca |
| Pooja Viswanathan | Vice President | admin@saveca.ca |
| Jaya /Girija Viswanathan | Executive Director & Treasurer | admin@saveca.ca |
| Prashant Viswanathan | Executive Director | admin@saveca.ca |
| Raji Gopalakrishnan | Director, Carnatic Music Wing | admin@saveca.ca |
Objective
SAVECA Canada is a non-profit organization established in Jan 2004.
Saveca's main objective is to promote Indian cultures, art, music & amateur athletic sports.
Saveca is also engaged in the promotion and development of Hindu religious, spiritual & educational activities.
Saveca Music Academy (Music Services)
Since 2004 Saveca has been organizing every year advanced vocal carnatic/classical & Violin work shops, conducting annual cultural events & organizing concerts from Professional artists and emerging musicians.
Till date SMA has organized 11 debut concerts, conducted by Mrs. Raji Gopalakrishnan
Vedic Services

Saveca launches Vedic services in 2006 to conduct Hindu Vedic rituals & to promote Hindu Vedic knowledge and culture within the community.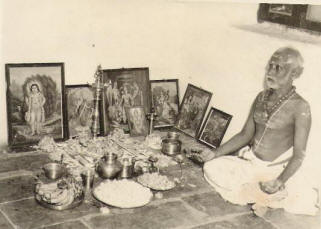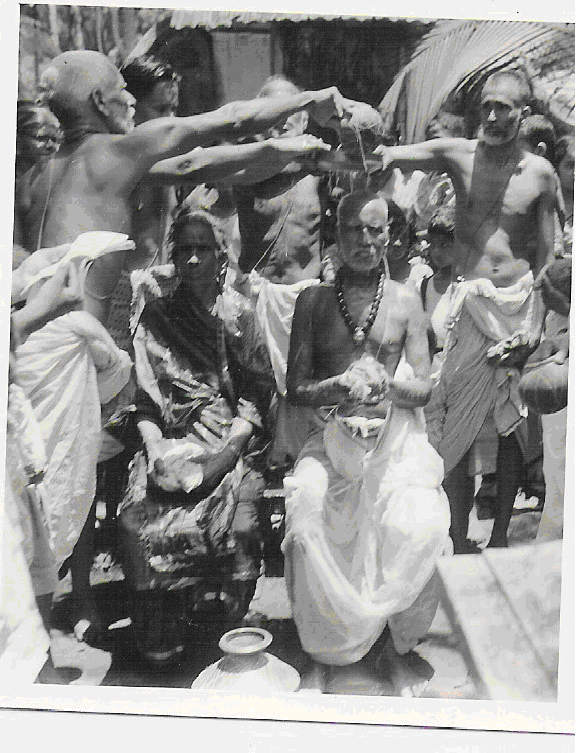 Late Sri Ananthakrishna Vadhyar Sadabhishekham of Late Sri Ananthakrishna Vadhyar
Message
I hail from a family which provided 2 generations of vedic services. My grand-father, Late Sri Ananthakrishna Vadhyar (above) performed vaidikam for over half a century (traveling many cities in Kerala) living in a small village in the Southern part of India - Kerala (Kodungallore or Cranganore), location of the famous deity "Kodungallore Bhagavathi" temple and my uncle, Late Sri. Narayanan rendered vedic services to several families both in Kerala and in Mumbai.

To continue with the family tradition, we have launched Saveca Canada's vedic services in December 2006 and we hope that with your encouragement and support we will succeed in spreading the spiritual essence of Vedas (as per Hindu Scriptures/Texts/Grantham) to the community in Canada and North America.

Management
Copyright © 2004 saveca.ca All rights reserved
No part of this website may be reproduced without the explicit permission from Saveca